Optimizer for Jira comes packed with powerful features that make Jira administration easier, more efficient, and less time-consuming. In this guide, we'll cover all the core features that Optimizer for Jira has to offer and point you in the right direction if you want to find out more about a specific feature.
Instance Overview
If you want to get a clear overview of all the configuration elements in Jira, this can be a time-consuming task, and you may need to run a script or rely on numerous CSV reports to find the information you are looking for.
With Optimizer, you can now get an "at a glance" view of your Jira in the System Overview screen without the need to navigate through multiple admin screens to connect the dots. Optimizer will bring all the information to you.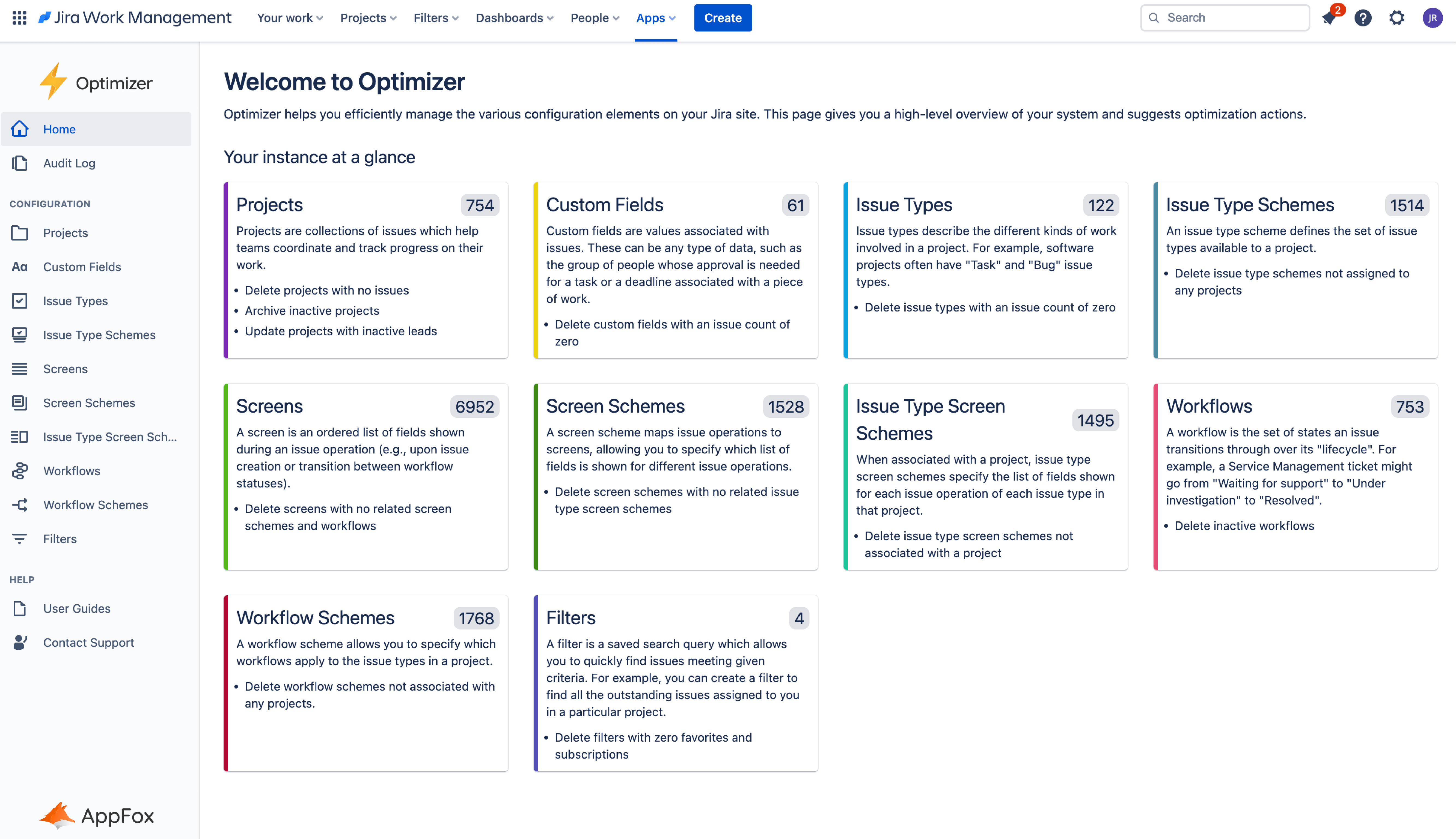 In the System Overview, you will see each Jira configuration element represented as a "Card/Tile". These contain a number showing the number of objects of that kind in your system as well as some suggested actions as part of a clean-up process. If you click any of the cards, it will open up the Smart Tables where you can get more detailed information about each of these objects.
Note: You can also access the Smart Tables using the left navigation bar
Smart Tables
For each Jira object and configuration, Optimizer contains a Smart Table that displays detailed information relating to these objects in your instance. This information is updated in real time, so it's an accurate picture of the current situation in your Jira instance.
Smart Tables are designed to help you make more informed decisions as an administrator by displaying all the information you need in one place, rather than having to search for it throughout multiple Jira admin screens.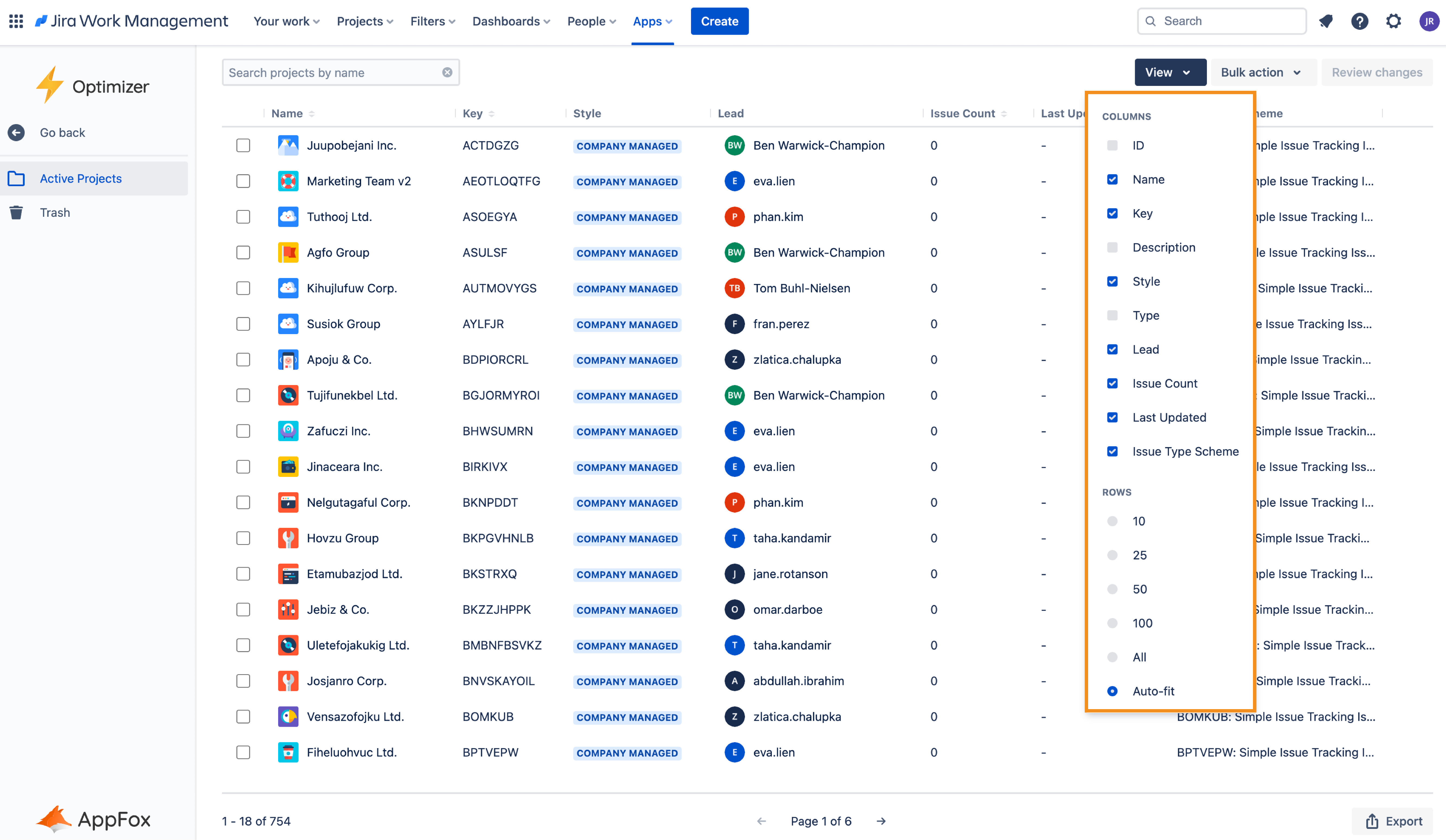 You can easily customize the Smart Tables to display the information you need in each column.
Inline Editing
The new Inline Editing enables you to make lightning-fast changes to Jira objects in the Smart Table itself without having to navigate to each individual Jira object or configuration. This powerful new feature will help you save valuable time and make edits on the fly.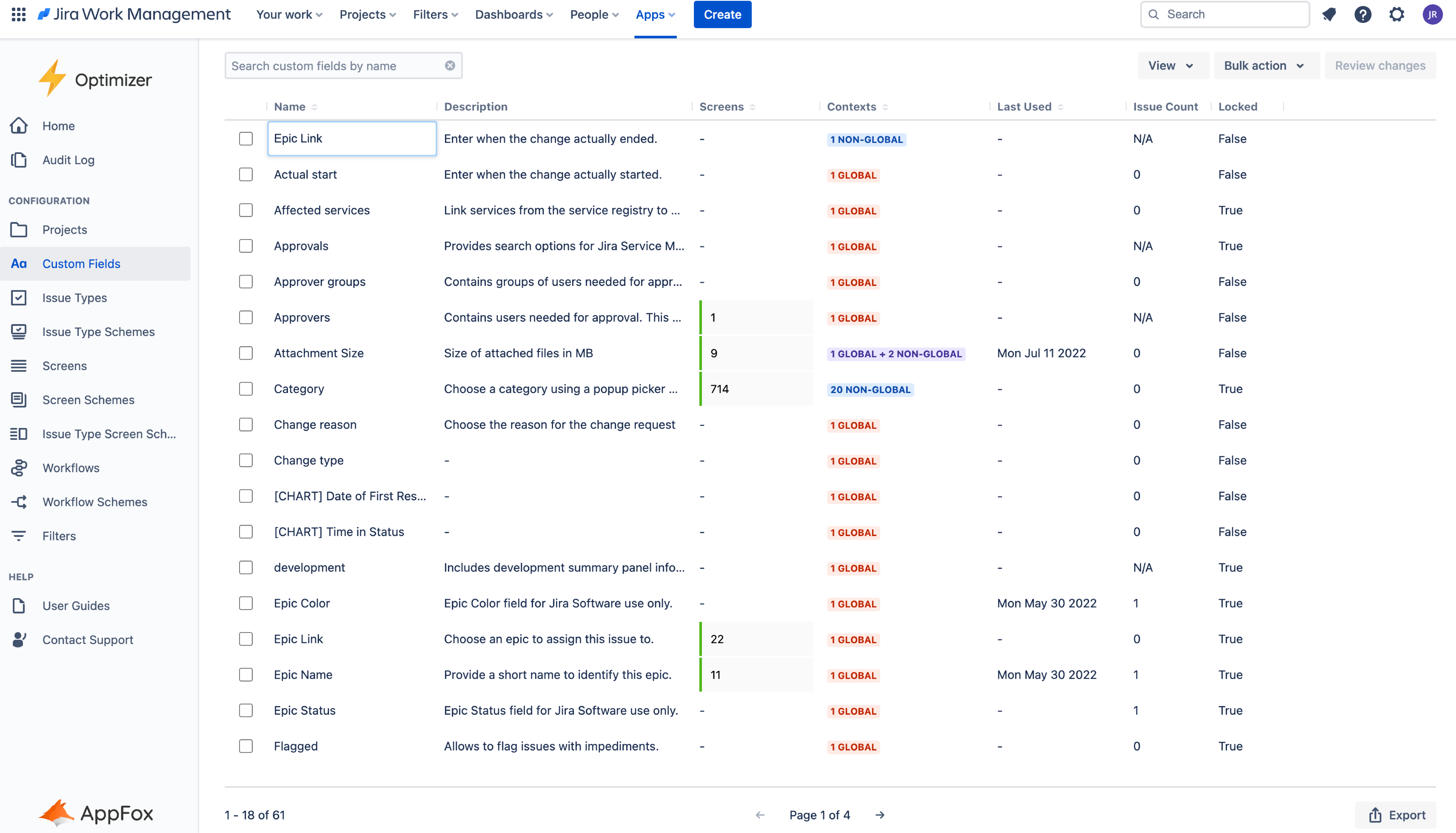 Unfortunately, some fields are not editable using Inline Editing. For more information on using Inline Editing and the fields that are customizable, please refer to the Inline Editing User Guide.
Bulk Actions
After using the Smart Tables, it's likely you will find a number of Jira objects or configurations that are suitable for deletion (or archiving if it's a Project).
Instead of making these changes individually, which is time-consuming and tedious, Optimizer enables you to carry out actions in bulk using the popular Bulk Actions feature.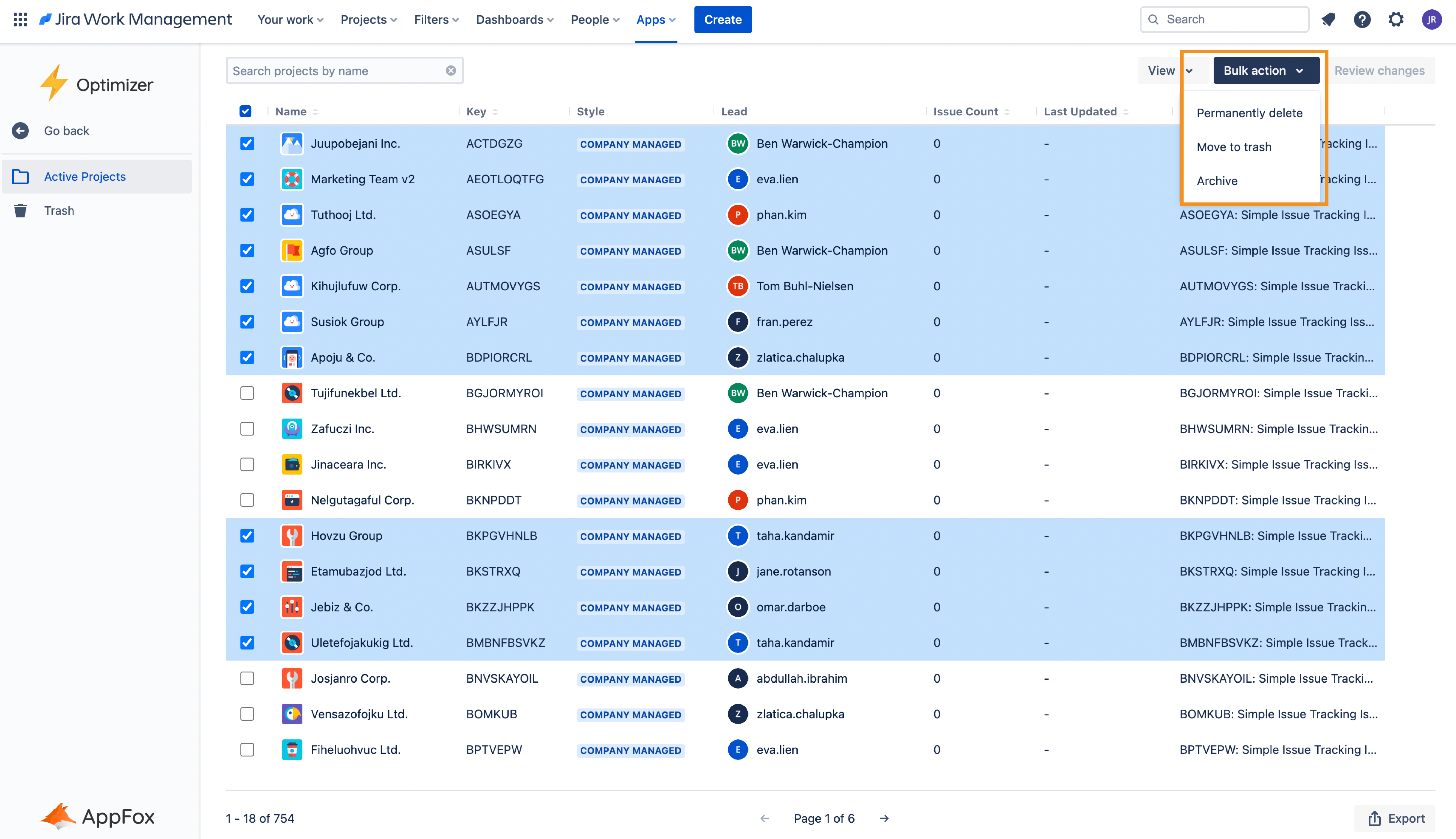 Based on the Jira object/configuration, the available actions in the Bulk Actions menu will differ. To learn more about Bulk Actions and which ones are available for specific Smart Tables, please refer to the Bulk Actions User Guide.
Export
You can easily export the information contained in any Smart Table to CSV. To do this, simply click the Export button in the bottom right corner of Optimizer, as shown in the image below.
To learn more about using the Export to CSV feature in Optimizer, please refer to the Exporting User Guide.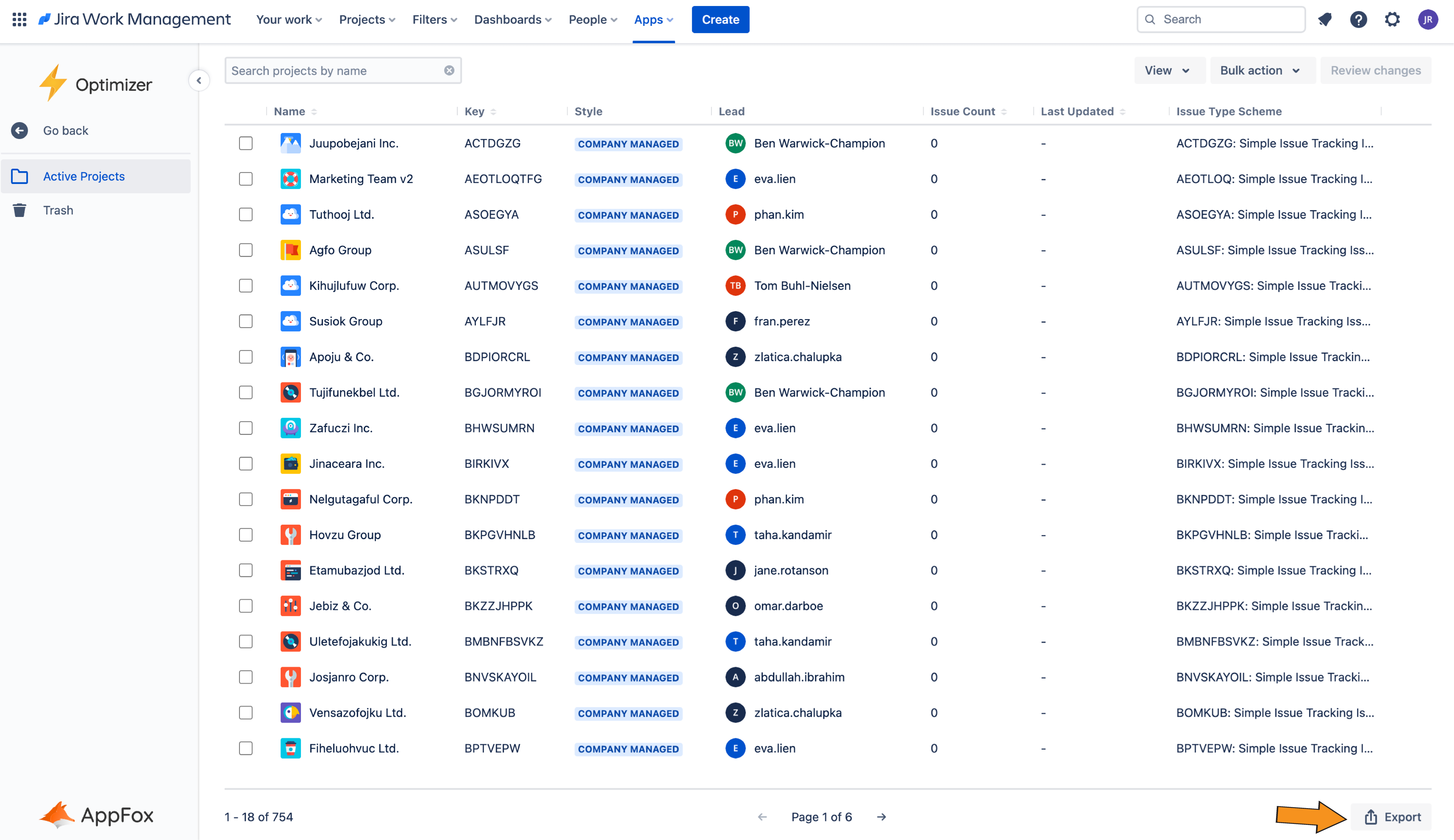 Future improvements to Optimizer
There is an extensive roadmap in place for future improvements and feature releases for Optimizer, but you can help us shape this. Please send us any ideas you have for new features or suggestions for improvement - we'd love to hear from you!
---
Need support? We're here to help 🧡
If you have any questions about Optimizer or would like to speak with us, please don't hesitate to reach out to our Customer Support team.