Bulk actions are a popular feature in Optimizer for Jira and enable you to make multiple changes in one action rather than completing these individually. Bulk actions can save you a lot of valuable time and we would highly recommend you use this feature where appropriate.
Using Bulk Actions
To use Bulk Actions, you need to navigate to any of the Smart Tables in Optimizer for Jira. In the example below, we are using the Projects table and selecting a number of Projects that will be changed in bulk.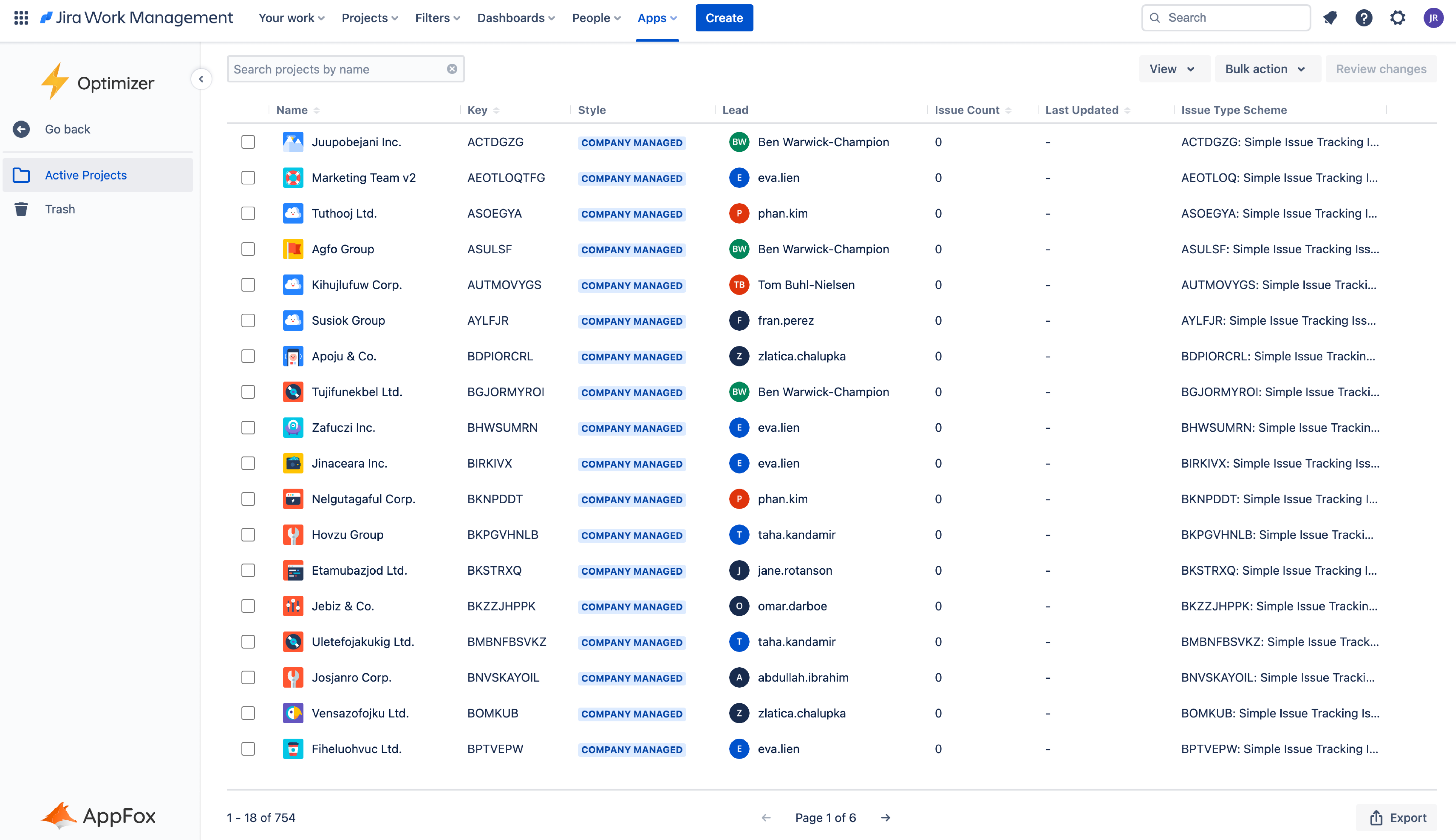 Start by selecting the rows you wish to use Bulk Actions, as shown in the image below. This will highlight the rows in blue.
Important: You can use Bulk Actions across multiple Smart Tables – all changes will be added to the Review changes table.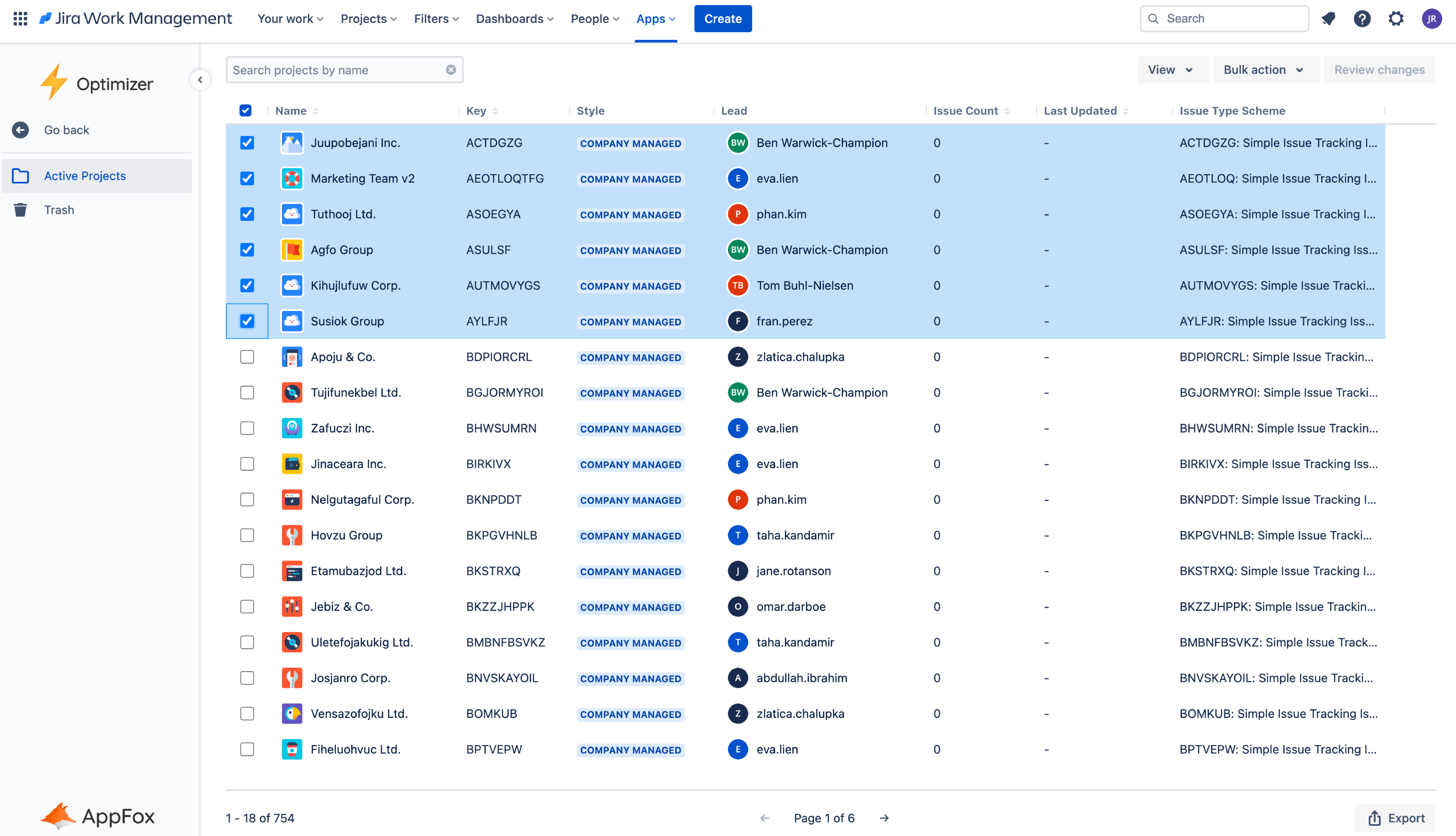 Top tip: You can select a range of rows by using the shift key. Select the first item, hold down shift and the select the last item. This will select the entire selection for you.
After selecting a set of rows, click the Bulk action menu located in the top right corner of the Optimizer window, as shown in the image below.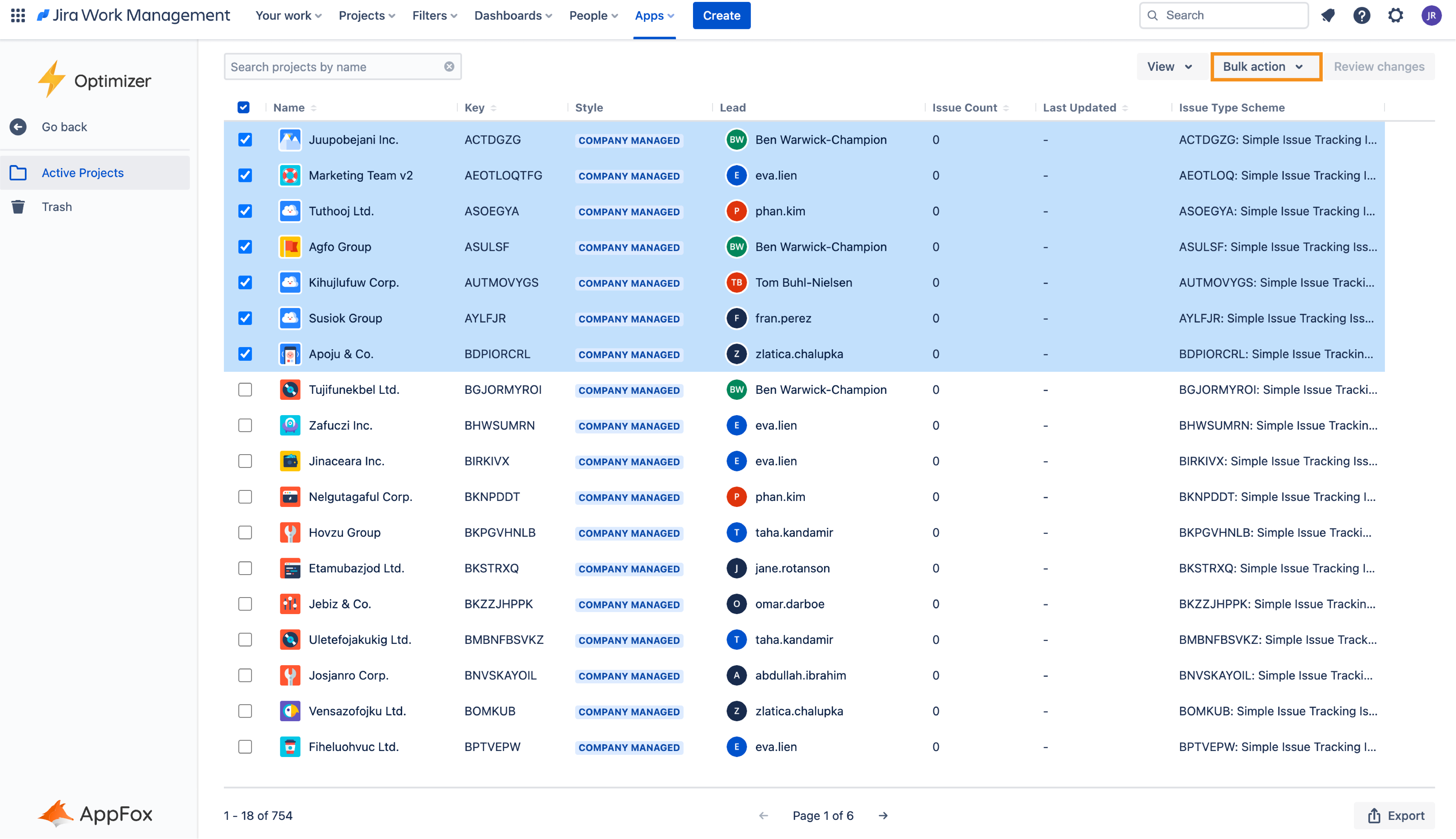 Next, choose the action you wish to apply to these selected objects. In this example, we are going to select Move to trash as shown below.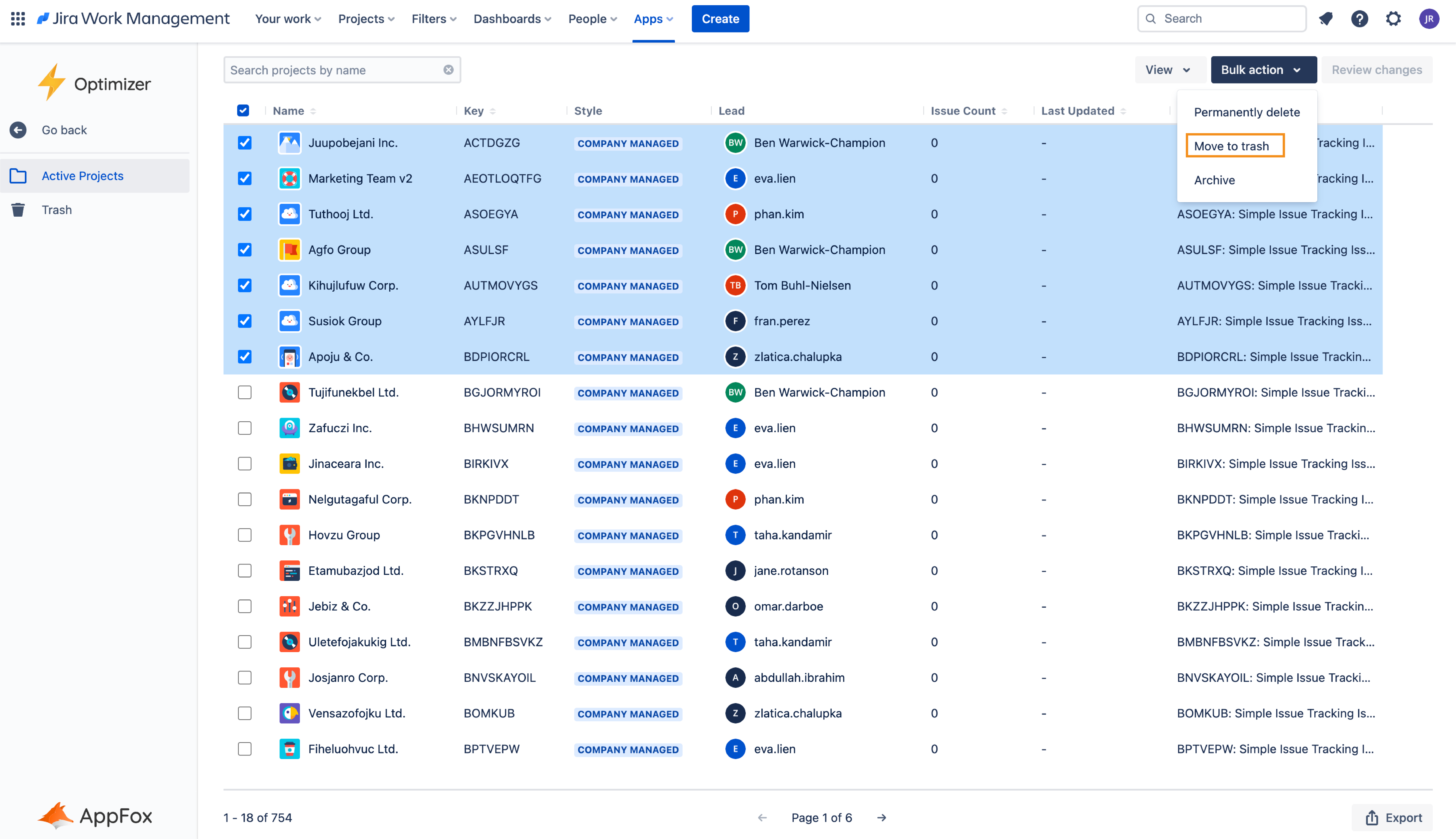 After selecting an action, the background color of the selected row will change according to the action selected. For example:
Red = Permanently delete or Move to trash

Purple = Archive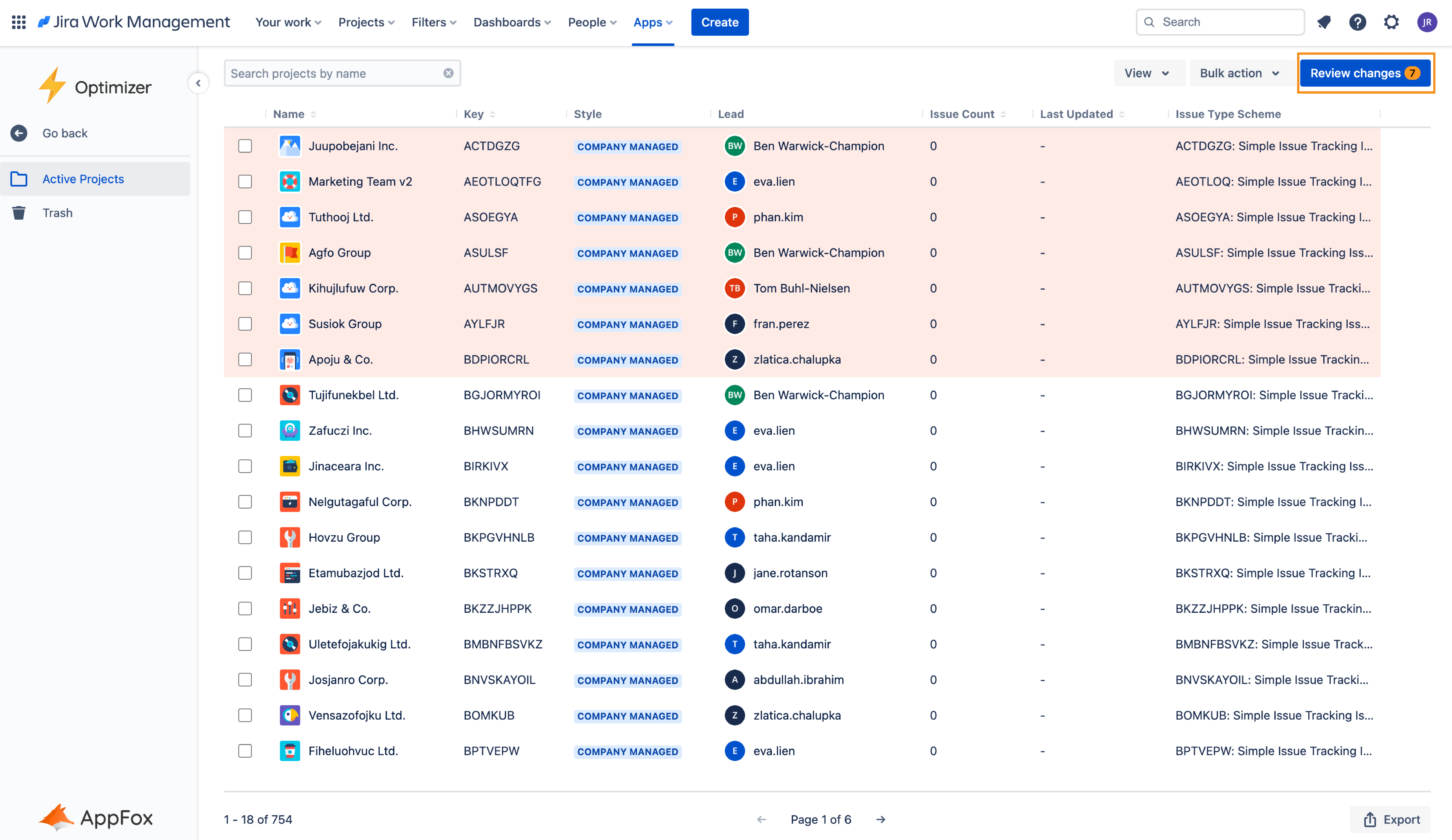 This indicates the changes have not yet been saved in Jira, but it is queued in the Review changes table ready for your review and confirmation.
For more information on using the Review changes table, please refer to the Review Changes User Guide.
Which bulk actions are available in Optimizer?
There are some limitations to the Bulk Actions available in Optimizer for Jira and the table below provides a breakdown of what is possible.
Smart Table

Available Bulk Action(s)

Active Projects

Permanently delete

Move to trash

Archive

Trashed Projects

Permanently delete

Restore

Custom Fields

Permanently delete

Move to trash

Issue Types

Issue Type Schemes

Screens

Screen Schemes

Issue Type Screen Schemes

Active Workflows

No Bulk Actions available

Workflow Schemes

Filters
---
👉 Next steps
👥 Chat to our team
If you have any questions or would like to chat with us, don't hesitate to contact our support team.
💬 Give feedback
We're on a mission to make Optimizer for Jira even better, so please share your feedback with us – we'd love to hear from you!