This will guide walk you through the core features in Approvals for Trello and will get you up and running in no time.
Before we jump into the basics, just remember if you have any questions or need technical support with the Power-Up, please reach out to our support team who will be more than happy to help.
What is Approvals for Trello?
Approvals for Trello is a Power-Up (third-party extension) that adds a simple, yet powerful review and approval tool into Trello. It's easy to use and requires no complicated setup, making it perfect for teams of all sizes.
Installing Approvals for Trello
It's quick and easy to add this Power-Up to your Trello board and we recommend following our installation guide to get started.
Adding an approval to a Trello Card
You can add an approval to a Trello card by opening it and selecting "Approvals" on the right hand menu (within the card). Once you have clicked "Approvals" you will see the menu below with the + icon at the bottom.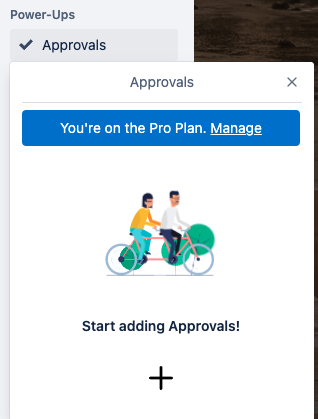 Click the + icon to add an approval and start selecting your reviewers. Once you have selected your reviewers, the approval process is active and the reviewers can make their decision (approved/rejected) at this point.
Selecting your reviewers
You can select any members of the Trello board as approvers. Once you have clicked the + icon, Approvals for Trello will give you the option to select as many approvers as you need.
Customizing the name of an Approval
You can customize the name of the approval cycle during the creation process. This will allow you to call it something relevant (e.g. Line Manager Approval) and tailor Approvals for Trello to you.
In the Pro version of Approvals for Trello you can add multiple approval cycles. We would highly recommend you customize the name of these cycles to make it easy for people to understand.
Unlock more powerful features with the Pro version
There is a Pro version of Approvals for Trello which comes with even more powerful features such as Approval Teams, Card Automation, and a built-in Approval Dashboard.
You can activate the Pro version from the Optro marketplace or within the Approvals for Trello Power-Up itself.
Create Approval Teams
Approval Teams are a great way to bring consistency to your approvals and also save valuable time in the approval setup process.
If you have a specific group of people or team that are required for certain approvals, you can easily create Approval Teams in the Approvals for Trello settings.
Enhance Approvals with Automation
The powerful automation feature has been designed to save you time and bring greater structure to your Trello board.
You can use the automation to automatically move Trello cards to specific lists depending on their approval status. For example, if a card is approved then the automation will automatically move it to a list of your choosing.
Keep Track of Approvals with the Dashboard View
It's important to keep track of the approvals that are taking place on your Trello board and the newly released dashboard view will help you do just that.
You can easily view all the approvals that are pending, approved or rejected and filter the dashboard by specific approvers so you can find exactly what you are looking for.