Over an extended period of time, it's very common for inactive, unused objects to build up in Jira and admins have the important job of keeping Jira well-maintained and optimized so that end users can receive the maximum benefit from the tool.
However, this build-up of "clutter" can make routine maintenance and clean-up initiatives a challenge, not to mention it may impact the accuracy of reporting and other features that end users rely on. Optimizer for Jira has been designed to help admins identify areas for improvement and optimization and then provide the tools needed to make changes at scale (in seconds) - saving valuable administration time.
In the guide below, we'll explore some scenarios that show how Optimizer can help you perform effective and efficient Jira clean-up initiatives.
Example 1: Old Projects
In the Active Projects Smart Table, you can sort Projects in your Jira instance by their issue count and the last date any issues were updated. This is a great way to identify any inactive or unused Projects in Jira which are prime candidates for deletion or archiving.
After you have identified these inactive Projects, you can manage them in a number of ways:
Archiving (only available on Premium and Enterprise Jira plans)

Move to trash

Permanently delete
To learn more about the Bulk Action options and how you can use them, please refer to the Bulk Actions User Guide.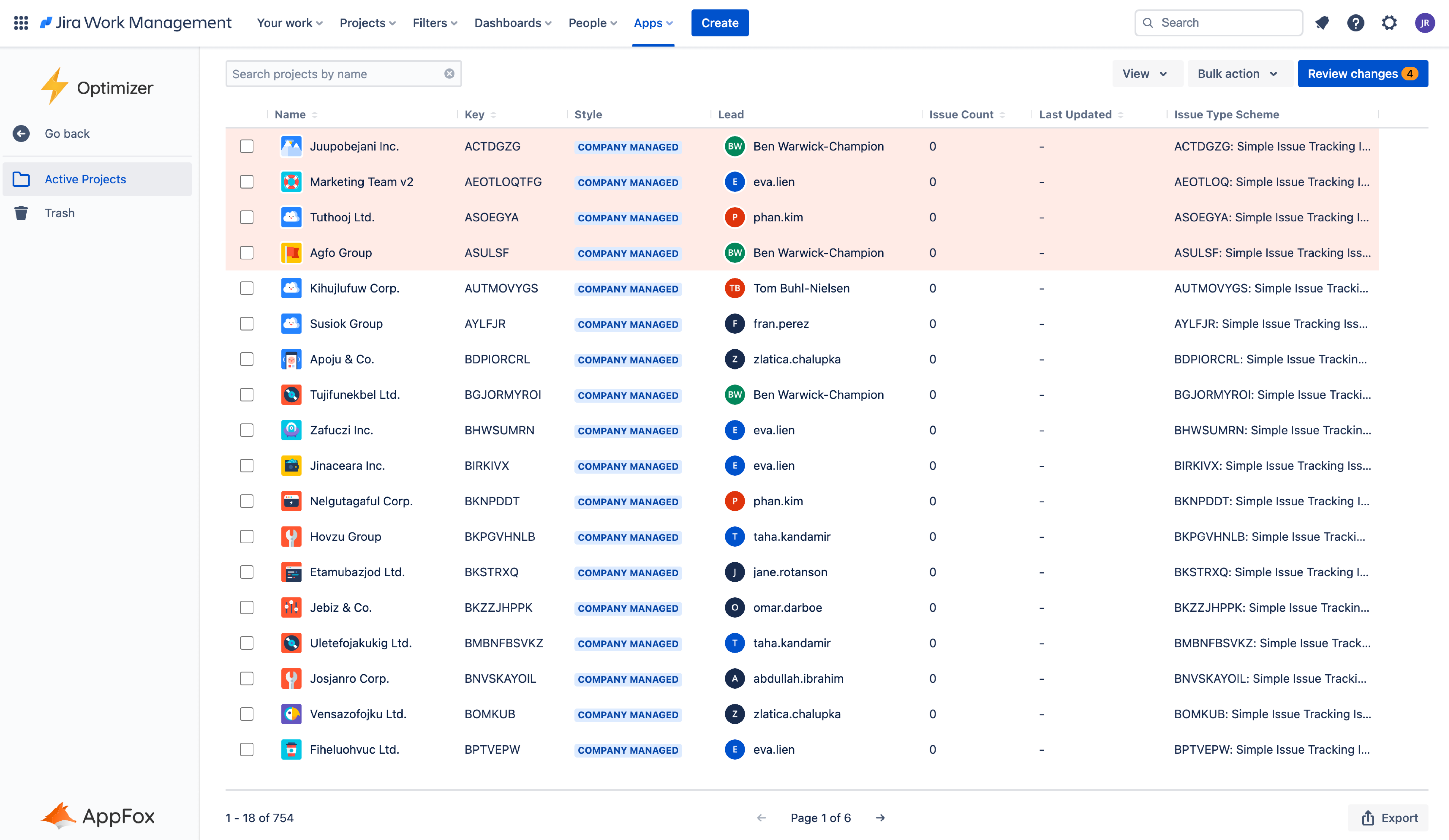 Important: Please ensure a project is no longer in use before permanently deleting it. Once deleted, there is no way to recover and restore the project to your Jira.
Example 2: Unused Custom Fields
Custom fields are an incredibly powerful feature in Jira and can add layers of customization that are needed by teams or departments. However, like many other objects and configurations in Jira, custom fields can build up over time, and you may wish to review custom field usage and identify areas for improvement and optimization.
Some of the common areas for custom field improvement are as follows:
Reducing the number of unused custom fields

Preventing duplicate custom fields (or minimizing these as much as possible)

Ensuring custom field contexts are set correctly
You can use the Custom Field Smart Table in Optimizer to get an overview of all the custom fields in your Jira system. This will display a range of information that can help you identify the right custom fields for optimization, including the name, description, screens, context, issue count, and last used date.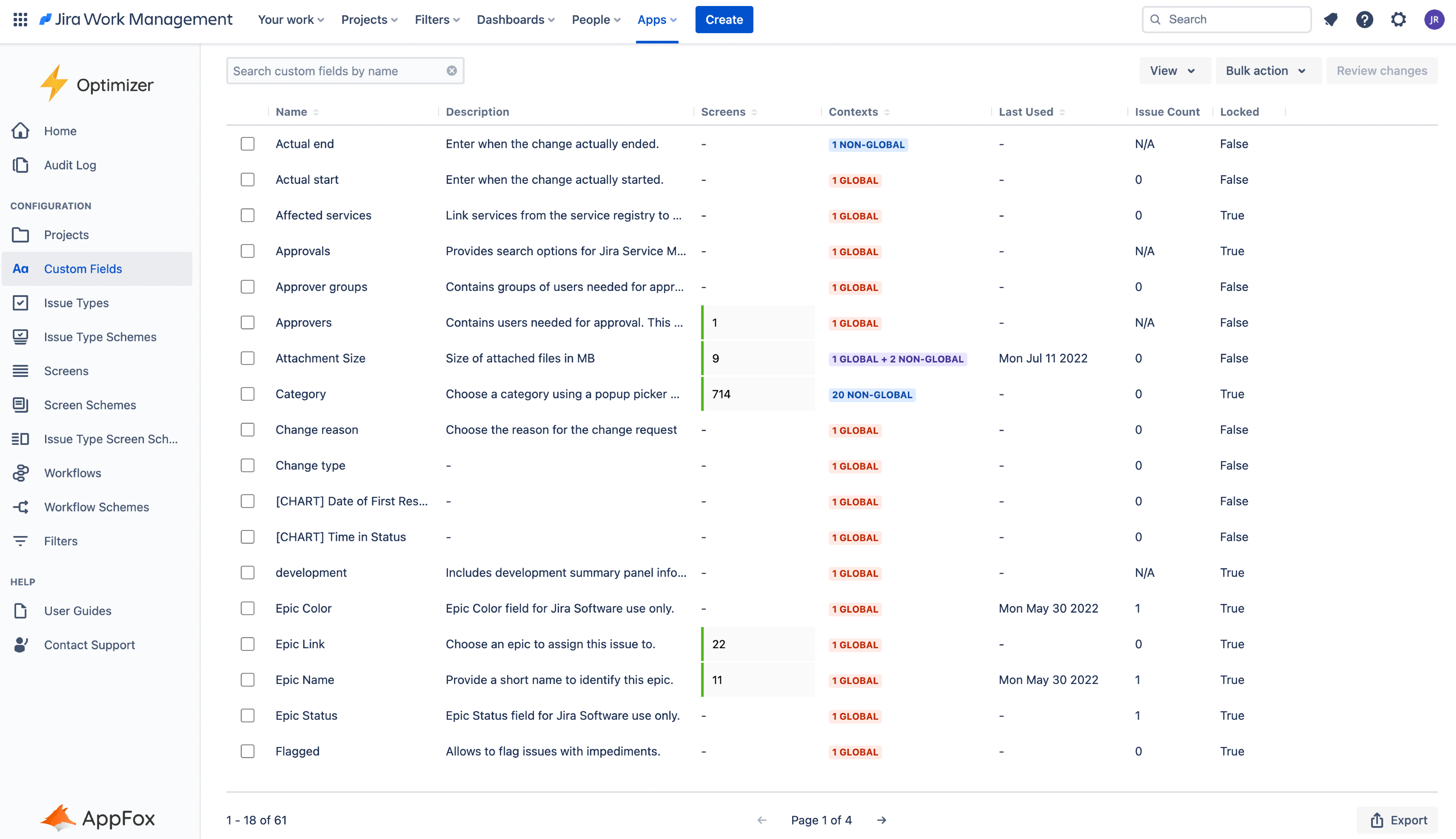 Once you have identified the appropriate custom fields for a clean-up initiative, you can use the Bulk Actions feature to carry this out.
To learn more about the Custom Fields Smart Table and the Bulk Actions you can use, please refer to the Custom Fields Smart Table User Guide.
Example 3: Unused Screens
Screens are an important configuration object in Jira but these are also susceptible to growth over time and need to be managed.
The Screens Smart Table in Optimizer for Jira will display all the Screens in your Jira instance with the associated Screen Schemes and Workflow Transitions so you can make informed decisions about which Screens are required and which ones may be candidates for removal.
Due to limitations in the Jira data API, Screens cannot be sorted by Screen Schemes or Workflow Transitions. We are currently investigating ways to resolve this in Optimizer but we recommend using the Export feature to convert the data to CSV and use sorting in an external spreadsheet tool.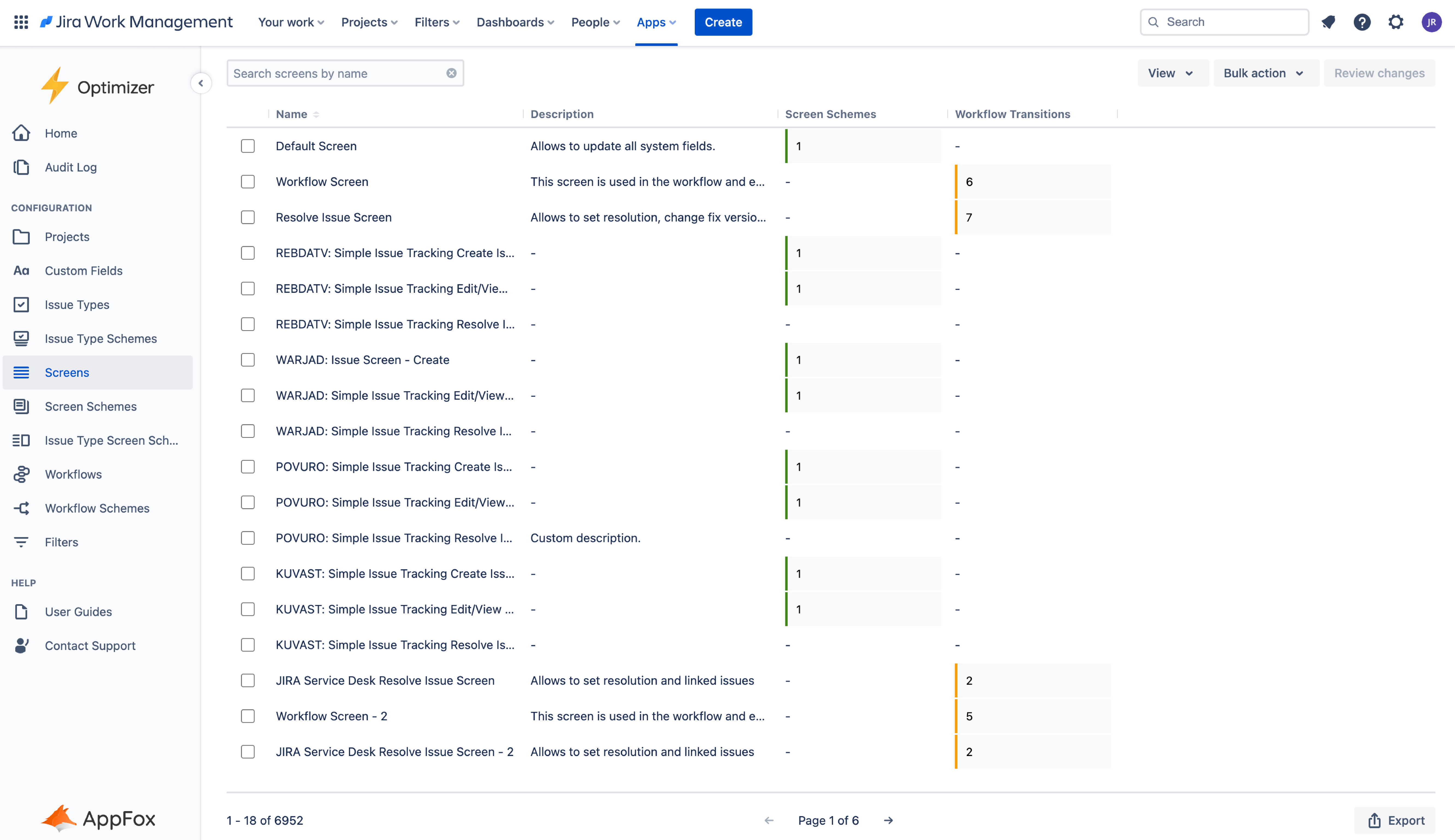 Exporting the Screens data to CSV will allow you to filter and sort it the way you like in software like Excel or Google Sheets. For example, you could sort Screens in Excel to find those that are not being used in any Screen Schemes or Workflow Transitions.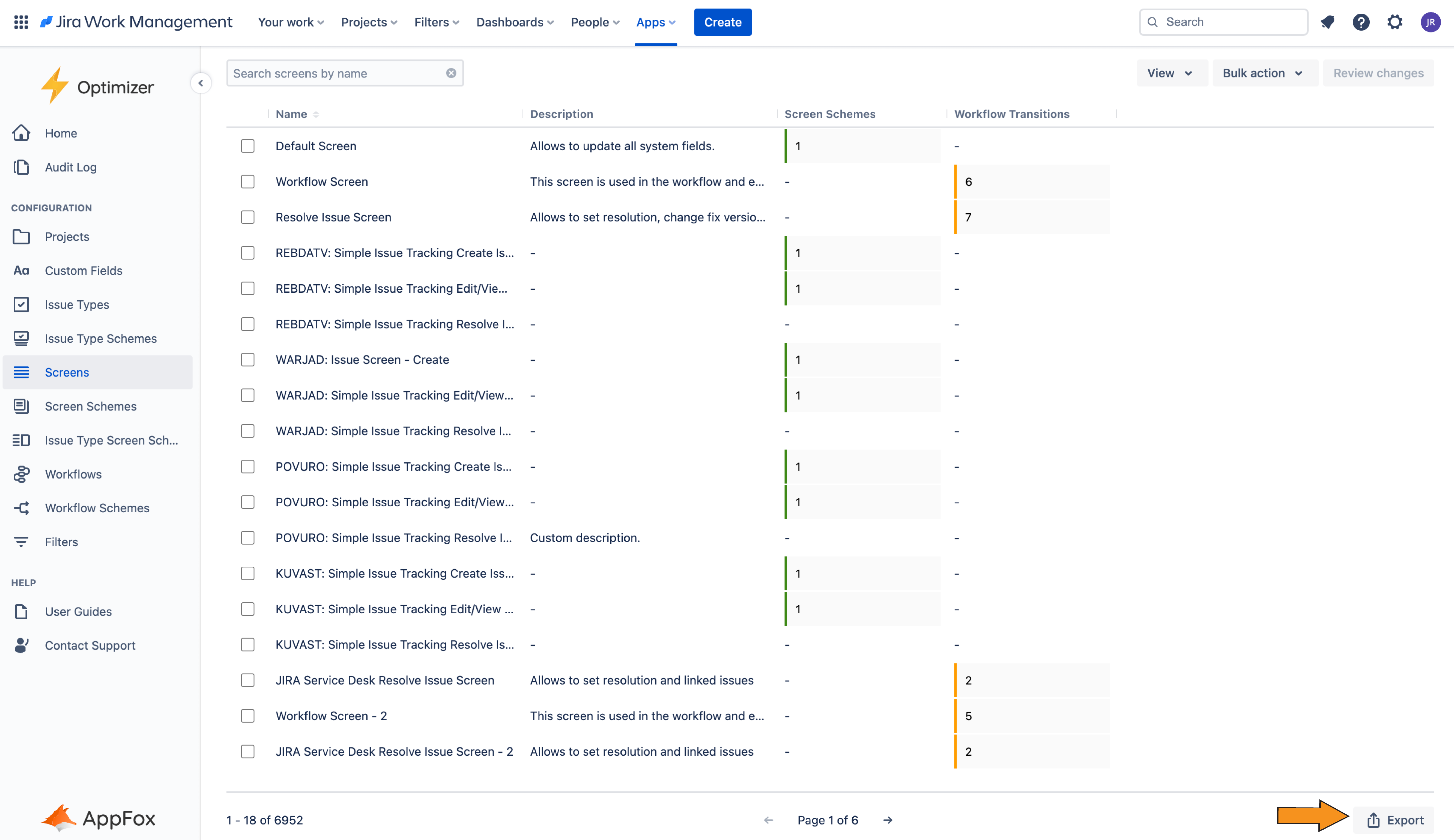 Once you have identified these Screens you can then search for them in Optimizer (using the Search field) and use Bulk Actions to make the changes you need.
Other areas of focus in your Jira clean-ups
In this guide, we have covered three common examples of areas that admins want to focus on in their Jira clean-up initiatives. However, Optimizer contains many more Smart Tables, and you have the flexibility to investigate other configuration objects in Jira and identify other candidates for editing or deletion.
To learn more about the different configuration objects available in the Smart Tables, please refer to the Smart Tables User Guide.
---
Need support? We're here to help 🧡
If you have any questions or would like to speak with us, please don't hesitate to reach out to our Customer Support team.