Expiring and Re-Approving Documents
Diane works for a Fortune 500 company that have policies that need to be updated and re-approved each year. Due to the number of policies, Diane is unable to keep track of every policy and when each one needs to be re-approved due to the quantity. She needs to keep the same document and expire the approval once one year has passed and notify the document owner.
The team could create a new document and re-start the approval process but this creates two versions of the document which is not necessary. By using Approvals for Confluence, Diane has a solution that will allow her to keep the same document and re-approve it based on the time period she sets.
Product Features
Use Case
Diane opens up the approved policy in Confluence and can see that the previous Approval has now expired as it has been a year since the last approval was made. She makes the required changes to the policy and re-submits it for approval using the Approval Byline. Diane can choose the same approval team as before or specific individuals depending on the business process. For this policy, she re-submits the page to the same approval team as before.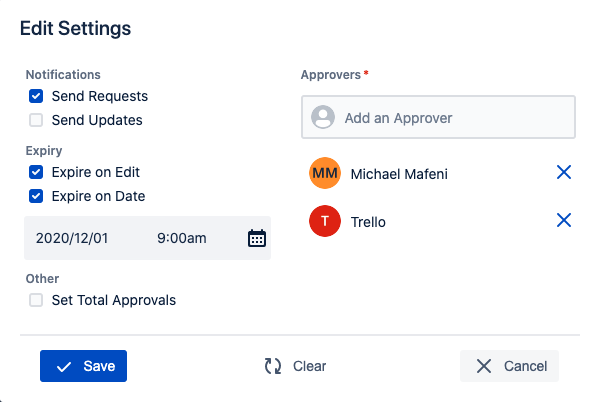 Once submitted, the approval team get an email notification to inform them that the page is ready for their review.

As you can see through this example, Approvals for Confluence provides you with the ability to expire content after a specified period of time which makes this previous longwinded process easy and straightforward.