Get Confluence Pages Approved
Bob is an account manager for an advertising agency. He has recently drafted a project proposal for a new media campaign and needs to get it approved by 2 creative directors and head of marketing. This is the standard process for this agency when developing project proposals.
Product Features Covered:
Page Approvals

Email Notifications

Approval Teams
Use Case
In Approvals for Confluence, you are able to setup Approval Teams to save time and standardize your approval processes.
At this agency, the Space Admin has setup an Approval Team to align with their business process. This Approval team includes both creative directors and the Head of Marketing. The Approval Teams can be easily modified if employees change role or leave the business. Bob uses this Approval Team for his project proposal and selects them in the Approval byline.
The Page Approval also needs to expire if any changes are made. This is easily set up by using the Page Approval Options. After Bob has written a draft of the project proposal, he can begin setting up the approval process by clicking "Add Approval" in the byline and selecting the configurations required.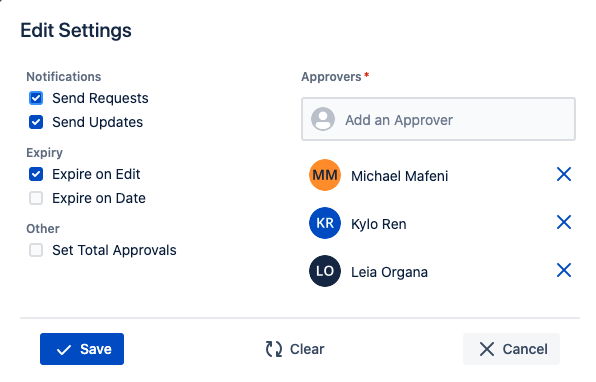 Once Bob has setup the approval configurations required, he submits the proposal for approval. Every member of the Approval Team is sent an email notification requesting their review and approval. Bob is also emailed when someone approves or rejects his document. These email notifications help keep Bob on track of the progress of the review cycle.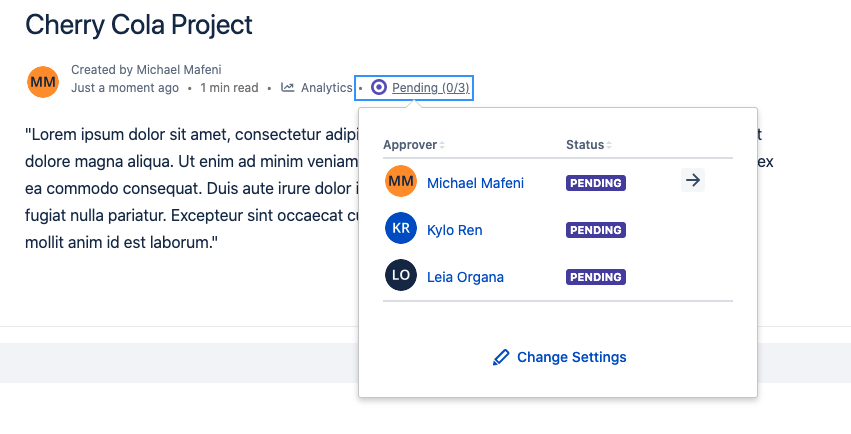 As demonstrated in this scenario, using Approvals for Confluence provides an easy way to get documents reviewed and approved. The configuration settings and approval teams can help businesses save time and ensure their review processes remain efficient and effective.