Set Expirations on Documents
Jenny, Head of Marketing, is responsible for the completion of a performance review for her team member, Jonah. These performance reviews are completed on an annual basis.
Jenny could create a new performance review document each year and re-start the approval process but this creates two versions of the document which creates unnecessary duplication. She decides to keep the same document and apply a content expiration at the end of each year.
Product Features
Page Approval

Expiry Options

Approval Teams

Email Notifications

Default Page Approval Settings
Use Case
Jenny has finished writing Jonah's review and needs to get it formally approved by the HR Manager. Approvals for Confluence gives Jenny an easy solution to get this document approved and apply the annual expiration that is required. Using the Approval Byline, Jenny can select the approval settings and submit the performance review for approval with the HR Manager. Before submitting, she checks to make sure the annual expiry date has been set.
In Jenny's business, annual expirations are used commonly, so the Confluence Space Admin has taken advantage of the Default Page Approval Settings in Approvals for Confluence to make a 1 year content expiration default for all approvals.
Note: this can be changed manually in each approval if required.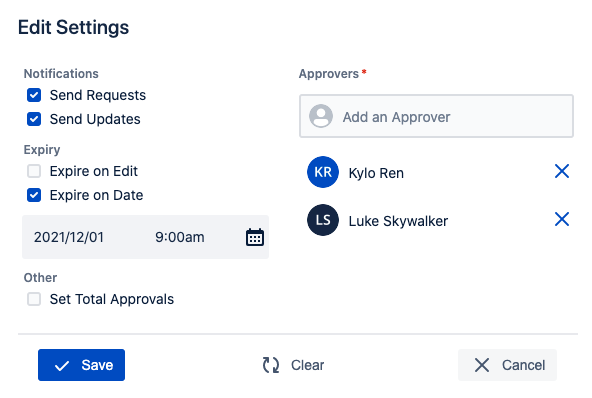 Once the performance review is submitted for approval, the reviewers (or review team) will receive an email to inform them the content is ready for their review. This is an easy way to prompt people for action but it also gives them a direct link to access the content waiting for their review. As the content owner, Jenny will receive an email notification each time an approval or rejection is applied to her content. Once approved, the content will automatically expire when the pre-set content expiration date is reached. Its status will be reverted to pending.

This example illustrates how Approvals for Confluence can provide you with the flexibility you need to manage the review and approval of different documents. By using the same approval for an ongoing document, you can prevent any version control problems from occurring and make general updates as they are required.