Manage your Power-Up Listings
You may wish to update and change your Power-Up listing as new features are released or your marketing messages change. Optro makes it really easy to make these changes and keep clear version history of your Power-Up listings.
Accessing your Power-Up listings
To access your Power-Up listings, log in to your Optro Vendor account and navigate to the Power-Ups tab.

In this section, you will see all the Power-Ups that are associated with your Optro Vendor account. Choose the one with the listing you want to edit and in the next page click the Listings tab. This is where you manage your listings for this Power-Up.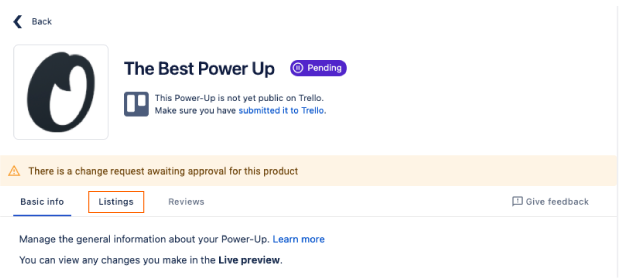 Updating your Power-Up listing
You will notice a table at the bottom which contains the different versions of your Power-Up listing. This is a great way of quickly identifying which version of your listing is active and which versions of draft.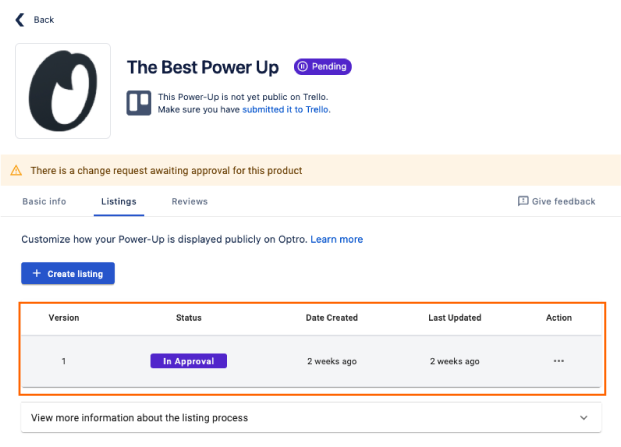 Only listings in the Draft status can be edited. You can view listings in the other status' but these are not editable.
Within the listing editor there are five key components to a Power-Up listing:
Summary - this describes what your Power-Up does, the functionality it brings to Trello, and how it can make a difference to Trello users. Use this as the place to add your marketing messaging!

Media - upload any screenshots that show the Power-Up in action

Links - add the links to your privacy policy, Power-Up documentation/guides and customer support.

Features - use the table to display which Power-Up features are free or paid. This is an opportunity to show users which features they can unlock with a paid subscription

Pricing - Set the monthly subscription price for your Power-Up. This pricing is per Trello Board and is in USD($).
Pricing Changes: If you make any changes to the pricing of Power-Ups published on the Optro market, please submit these to us as early as possible via an updated Power-Up listing.
We will need to notify the Trello users subscribed to your Power-Up and give them at least thirty (30) days notice that price changes are coming. This is in line with the Terms and conditions (section 8.5).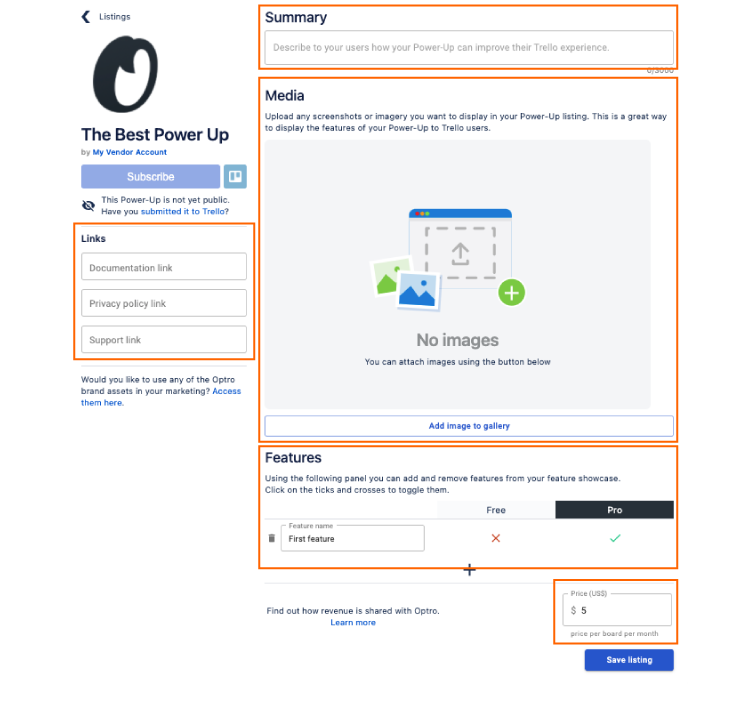 Once you are happy with the Power-Up listing click Save listing.
Submitting your listing for approval
Power-Up listings must be reviewed and approved by Optro prior to their release. This is to ensure the content contained in the listing is appropriate to be displayed on Optro.
Once you are happy with the content in your draft listing, click the ellipses (…) and select the Publish option.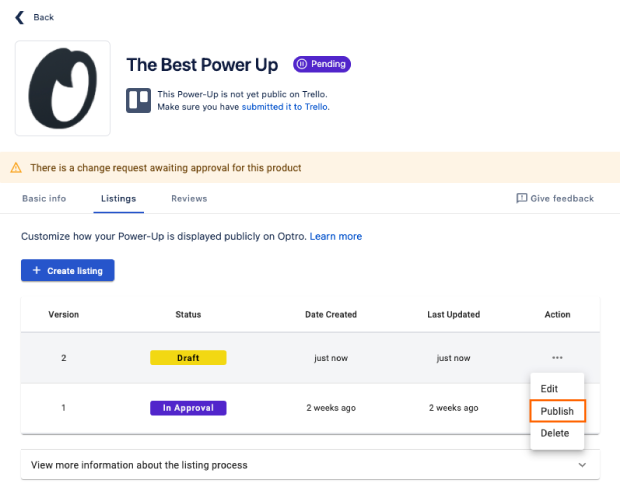 A small window will appear asking you to confirm submission of the listing for review. After you confirm, the listing is sent to the Optro team for review and status will be updated to 'In Approval'.
Listing Approval Process
Your Power-Up listing will go through several stages in it's lifecycle.

Draft - this is the version you can edit and you have full control over the listing at this point. When you submit a draft listing for approval, all draft versions will be automatically archived.

In Approval - the Power-Up listing is being reviewed by the Optro team. Once it is approved, you will be notified via email. You can only have one listing in approval at any one time.

In Deployment - the Optro team are pushing your Power-Up listing live on Optro Market

Published - the Power-Up listing is live on Optro and will be visible to the public

Archived - older listings will be retained to keep a version history. Once a listing is no longer published it will be archived
You can make a copy of an archived listing and use the Send to draft option in the ellipses menu. This will create a new draft listing and the features and fields will be copied from the archived version.
Please note, you can only delete draft versions of Power-Up listings. It is not possible to delete listings that have been published or archived.