Workflows for Confluence 2021-12-15
| | |
| --- | --- |
| Release Date | 2021-12-15 |
| Key Update | KEY UPDATE |
We're pleased to announce the December update to Workflows for Confluence has arrived 🥳
Release date: 15th December 2021
Important Update - Security Advisory
We have identified an issue where it was possible for anonymous users to access information contained within a workflow. By doing this, malicious actors could obtain information such as a Slack Webhook URL and in theory send messages to the Slack channels these URLs refer to. They would not be able to access information outside of the workflows (e.g. Confluence pages).
We have now blocked anonymous users from being able to access information within a workflow and have not received any reports of this vulnerability being exploited.
What else has changed?
Redesigned Apply Workflows Dialog
This update brings a completely redesigned process and user interface for applying workflows to a Confluence page. The new Apply Workflows menu has been built to simplify user experience and make it easier to find the workflows you need.
How to use:
Open any page on confluence that does not currently have a workflow applied to it, click on "Workflows" in the byline, and press "Select Workflow". You will then be greeted with our new Apply Workflow Dialog.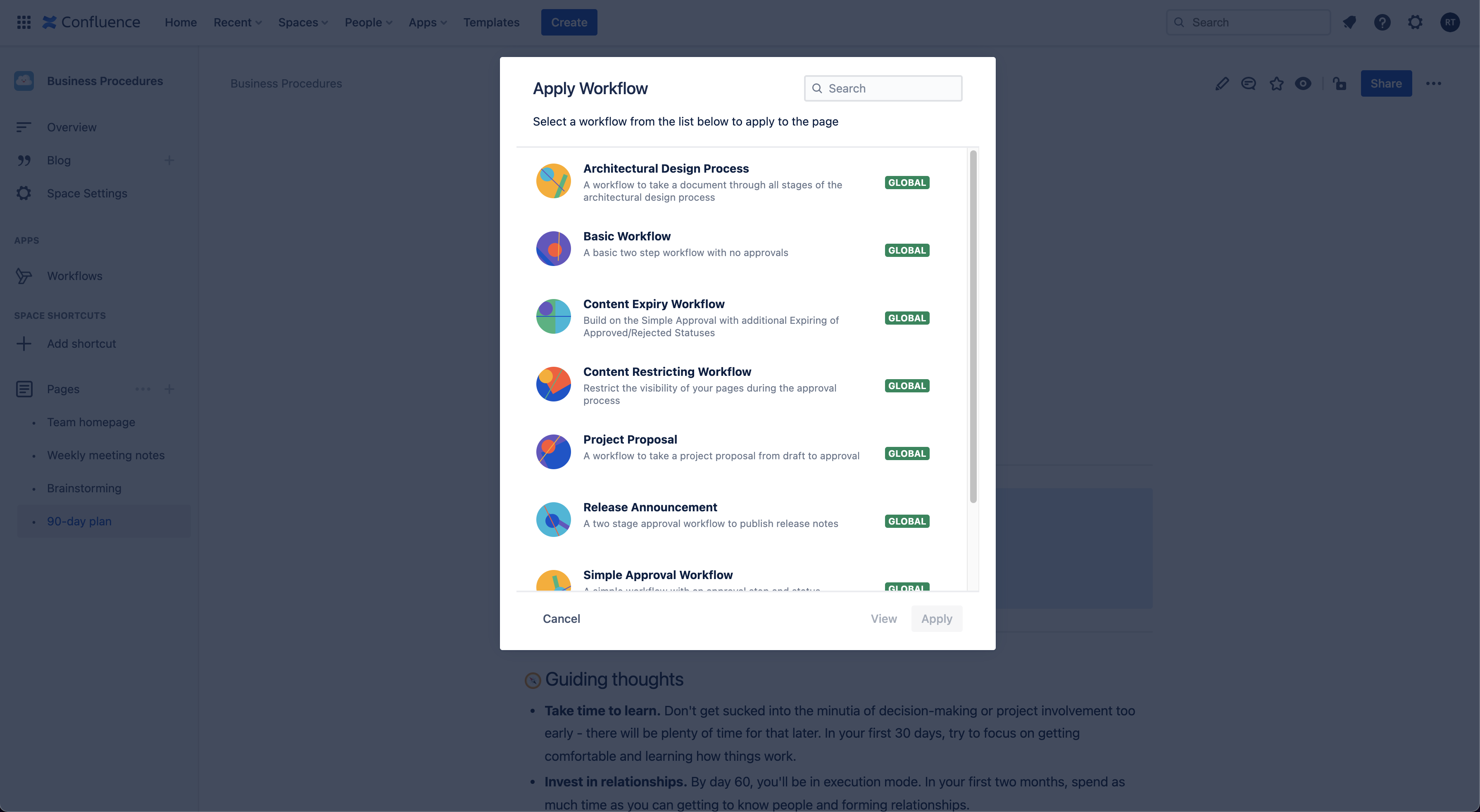 Search for your workflow using the search bar in the top right of the dialog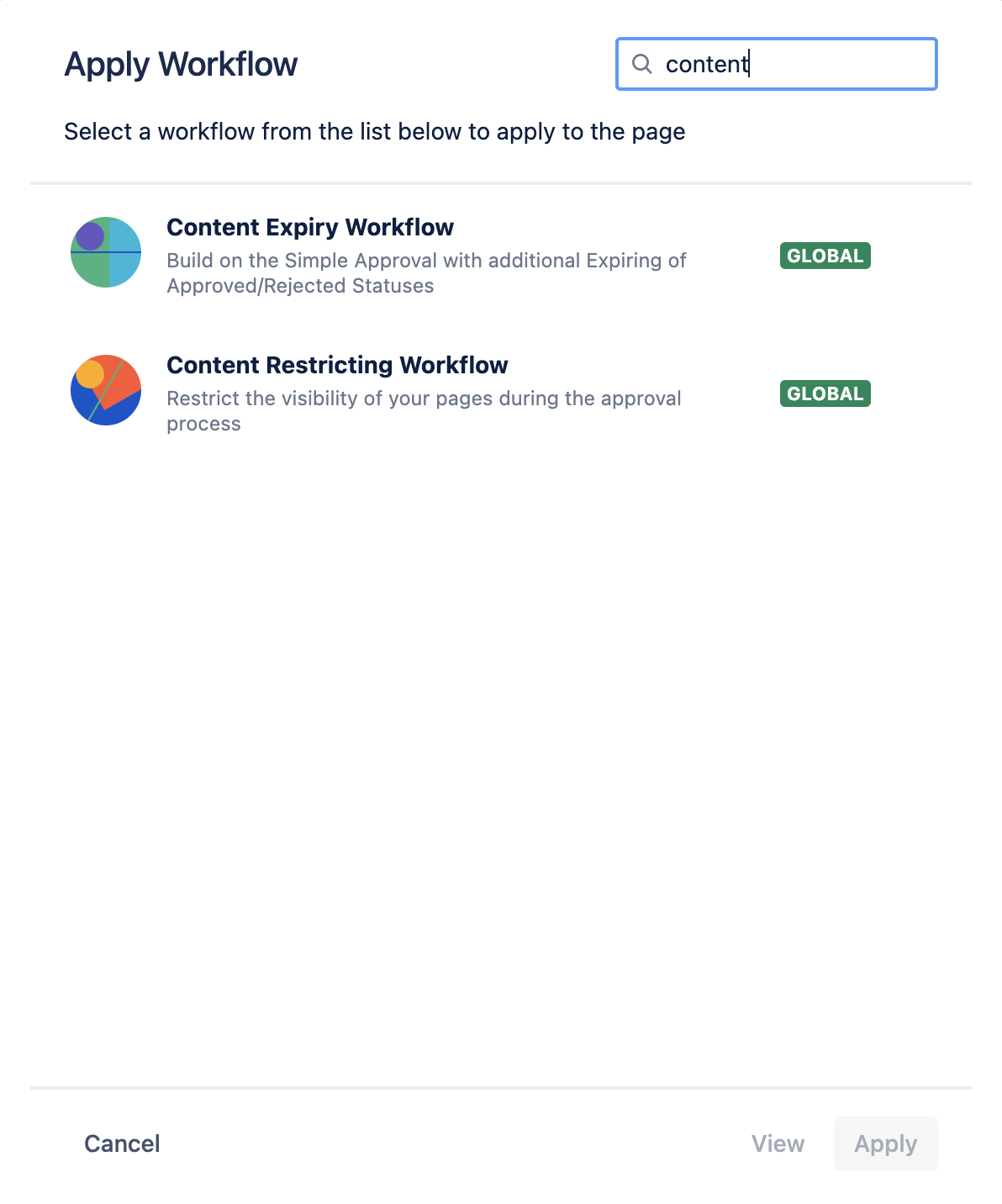 Click anywhere on the workflow you wish to apply to the page to select it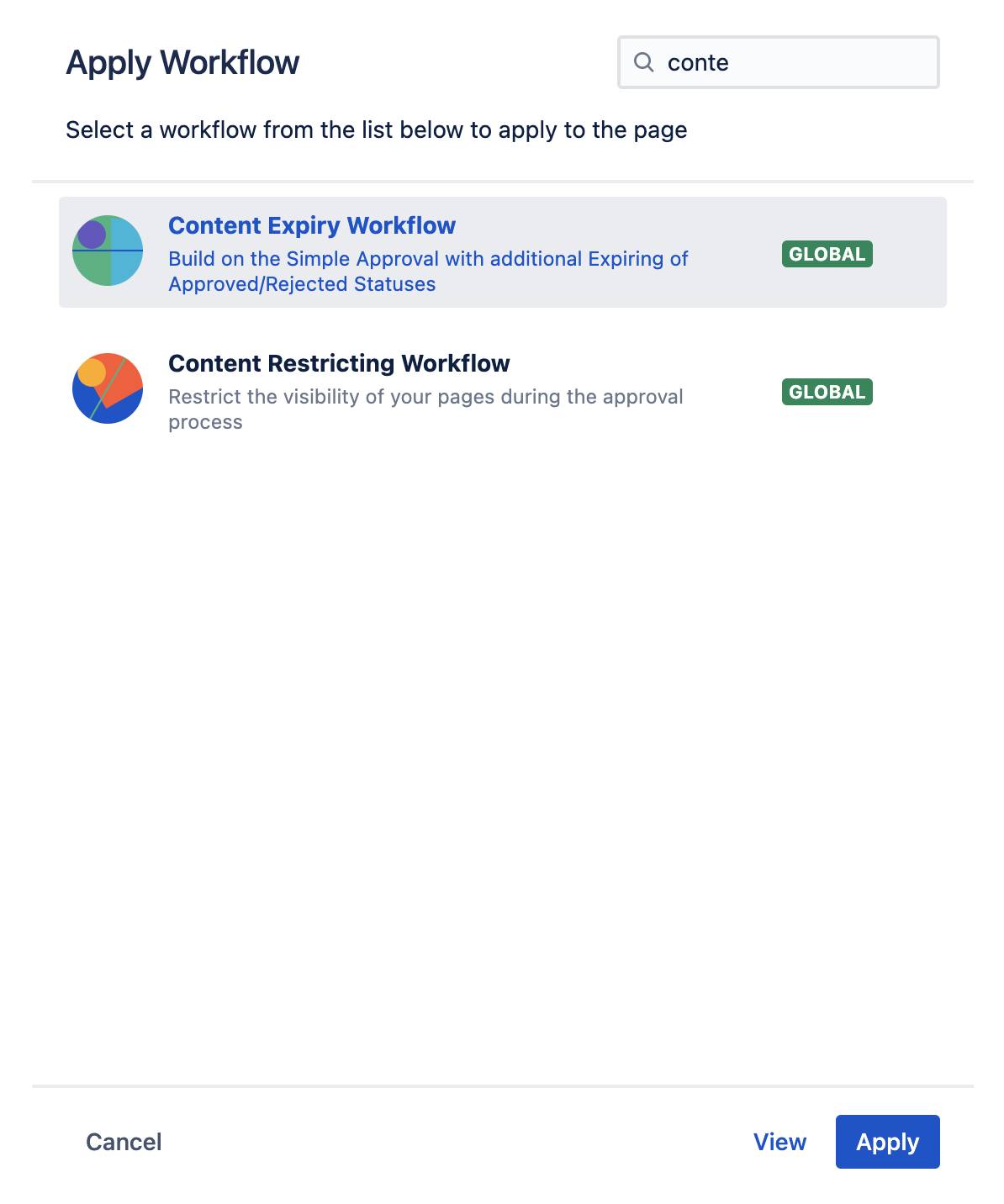 At the bottom of the dialog you can now press on "View" to check the setup of your selected workflow or, if you are ready to apply it to the page, press on "Apply".
Bug Fixes
Fixed an issue where the Page History table would display incorrect results for some users

Fixed an issue where exporting search results as a CSV would give incorrect or missing data

Fixed an issue where some buttons would not correctly display as loading

Fixed an issue where an additional approver added to a page could not approve or reject the page

Fixed an issue where the "Publish Page" action failed if the user didn't have sufficient permissions in the target space/page
How to upgrade to the latest version
The update is applied automatically so you're all set 🙌
Give us your feedback
We'd love to hear about how you are using our products and if there's any feedback you have that can help us make them even better.
Send this to us directly via our Service Desk.
What new features are coming?
There is an extensive roadmap of new features planned for Workflows for Confluence. However, if you don't see what you are looking for and have suggestions for new features please get in touch.